Bank boss shares lessons from two crises
February 26, 2014: 10:18 AM ET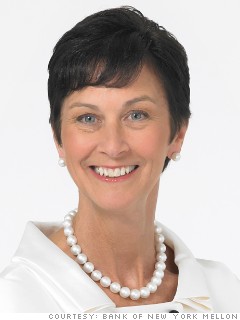 FORTUNE -- Karen Peetz occupies a unique perch to learn lessons from crises. She is president of Bank of New York Mellon (BK), a Fortune 500 company that weathered the financial crisis well but had its reputation tarred along with the rest of the industry. Peetz is also on the board of trustees at Penn State University, where, in the wake of the Jerry Sandusky scandal, she raised her hand to become chairman and helped her alma mater recover from the havoc and shame wrought by the former assistant football coach who was convicted of molesting young boys. Last week, PSU named a new president, Florida State University president Eric Barron, and coincidentally, the U.S. government released transcripts from the 2008 financial crisis -- prompting the world to reexamine lessons from both crises. No leader is better equipped to reflect on lessons learned from these two crises than Peetz. This is an edited version of remarks that she's given to audiences around the U. S.
I did my undergrad work at Penn State. I played lacrosse and field hockey as a student athlete. During my freshman year, Joe Paterno led our team to an undefeated season and a victory at the Orange Bowl. To me and so many others, Joe Paterno walked on water. He wasn't just a good coach -- he was a man who espoused high ideals about how to live one's life. Which, fairly or not, made the whole sequence of events that much more shocking. When the Sandusky crisis hit, Penn State, the administration and the board were in crisis. The presiding chairman of the board decided not to run for election. Somebody had to step up and say we accept responsibility to make changes. So when the position was offered, I accepted.
The lessons I learned were invaluable. And I realized that they applied to both educational and commercial institutions. Here are three of the most critical lessons:
Face reality. It's during a crisis that organizations develop a greater willingness to challenge tradition, to question sacred cows. Leaders have to seize on those moments. In the case of Penn State, we needed an early-warning system and governance that allowed us to identify and resolve problems. That meant including students and faculty members on our trustee committees. That meant accepting an array of sanctions imposed by the NCAA -- sanctions which, frankly, were not easy to swallow. Accepting them was a vital part of the moving-forward process. We also had to retool the leadership of the university. Yes, we want to bring in the best talent available. But no matter their pedigree, we want leaders who recognize the critical need to manage risk.
Rethink the definition of "good teamwork." Organizations need to learn ways to foster healthy dissent. If we're all harmonious and aligned in our thinking -- which feels good in the moment -- what are we missing? What is the price we will pay? Diversity is no longer about being cosmopolitan or altruistic. It's a necessity. I think we've undersold a central argument for greater diversity -- that ensuring that teams have people who think differently and challenge convention is critical to identifying contrary facts. They help save us from ourselves. Lehman Brothers (BCS) could have used more of those voices. Penn State is an incredibly strong institution, financially and culturally, but we could have used those voices too.
Accept responsibility. It took our industry a long time -- too long -- to accept that the game had changed. Many of our actions, collectively, precipitated the financial crisis. We have to move past denial and put the client at the center of our decision-making process. We have to show we understand that the world in which we operate has changed and that we embrace new ways of thinking and operating. In other words, we have to prove ourselves -- prove ourselves worthy of trust.